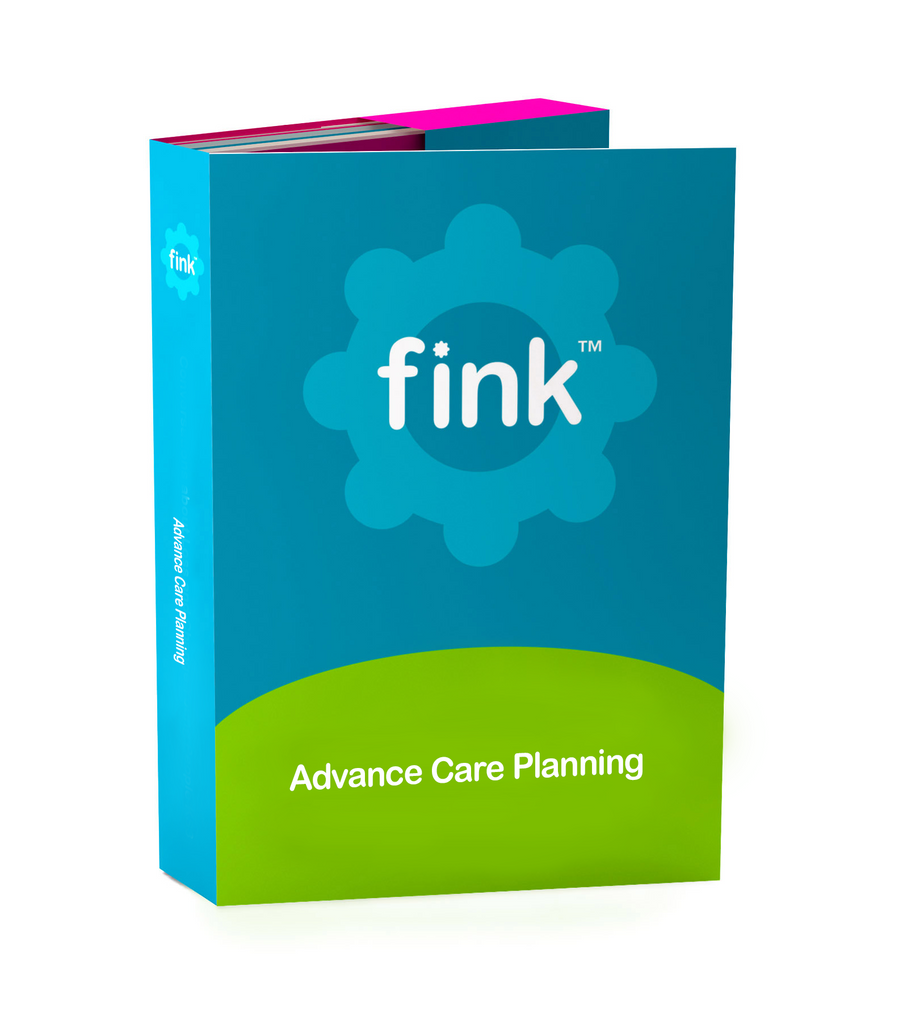 Fink Cards
Advance Care Planning
Thinking about and planning for the end of life.
Sometimes we don't know how to begin the conversation or don't know what to discuss.
Start important conversations about end of life care
48 Questions to help you share
what matters to you now and at the end of your life
how you like to talk about things
what decisions or choices are important to you
End of life can mean the next few years, months, or weeks of life when you have an incurable illness. Thinking, discussing and writing down (advance care planning) can help you and others by being able to share what matters to you; such as how you like to live your life now and what decisions you have about future care or treatments. You are invited to use these cards to help you start, share and continue these advance care planning conversations with your family and friends, doctors, nurses and others who care for you.
 The cards are divided into colour-coded categories
Purple: Instructions, Information, One Page Profiles, Definitions and Wild Card.
Green: How I Like To Talk About Things
Blue: Who and What Matters To Me
Orange: Advance Care Planning / Still To Do
Pink: As I Die / Celebrating My Life
Advance Care Planning is suitable for Health and social care professionals wishing to use an evidenced-based advance care planning, person-centred resource. It is also suitable for organisations wishing to use a key resource to evaluate their interventions or to base advance care planning education programmes around a key resource.
Advance Care Planning is written by Helen Sanderson and Sarah Russell.
Helen Sanderson has a PhD on person-centred planning and organisational change, she has written over fifteen books on person-centred thinking, planning, community and personalisation. She was the Department of Health's expert advisor on person-centred approaches to the Valuing People Support and Putting People First Teams.  She co-authored the first Department of Health Guidance on person-centred planning, and the 2010 guidance 'Personalisation through person-centred planning'.
Sarah Russell has worked in hospice and palliative care (as a clinical nurse specialist, manager, educator and researcher) for over 22 years. Her passion is to make the seemingly inaccessible - accessible and to share ideas and evidence which she has done through planning, delivering, evaluating and publishing end of life projects and evidence across the hospital, community, care home and hospice setting. She is just completing her Advance Care Planning Professional Doctorate in Health Research and can regularly be found on Twitter as @learnhospice
Also available from Helen Sanderson
One page Profiles for Children KS1
Once Page Profiles for Children KS2
One Page Profiles for Young People
One Page Profiles for People Living with Dementia
Appreciation Cards for One Page Profiles
Fink is passionate about conversation. We are on a mission to get people talking about the things that matter. We help families, schools, organisations, and health care professionals start important conversations.

Can I pay by Purchase Order?

Yes, we accept purchase orders (PO's) from schools and organisations. Please email your order to sales@finkcards.com
What is your risk?
Nothing - You must be 100% satisfied with any item you ever order from us. If not, return your purchase and you will promptly receive a full refund.
What is your risk?

Nothing - You must be 100% satisfied with any item you ever order from us. If not, return your purchase and you will promptly receive a full refund.
---
More from this collection